Toowoomba Region | Sunshine Coast | Throughout regional Queensland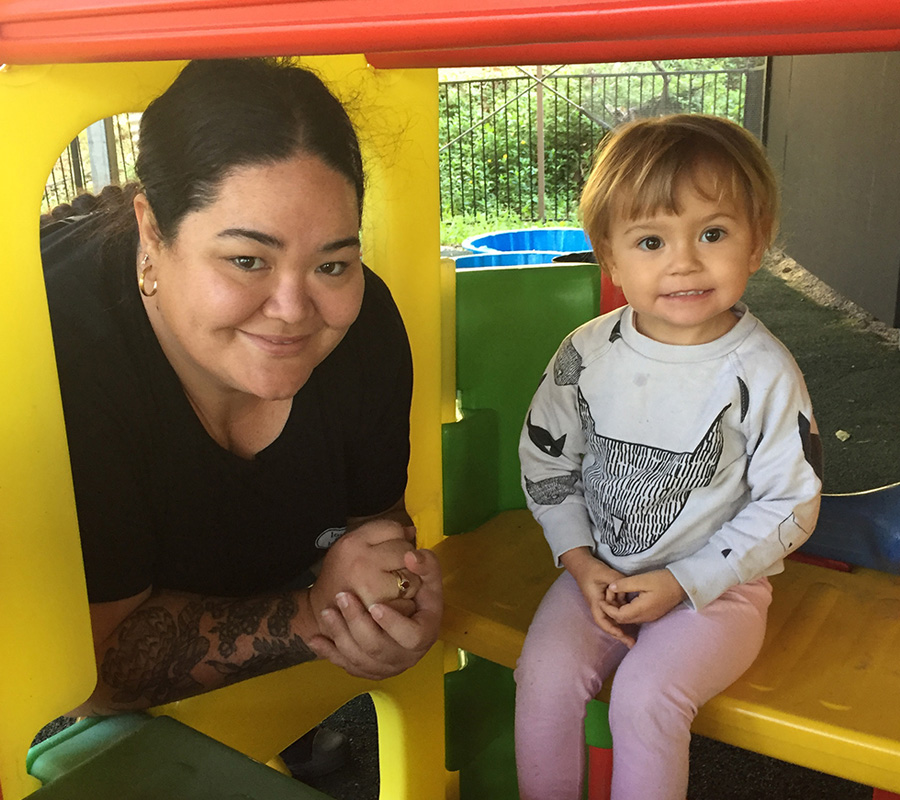 Looking for quality, flexible child care that suits your family's needs?
Family day care may be just what you're looking for! Through our established network of fully trained and registered educators in Toowoomba, South West Queensland and the Sunshine Coast, we offer:
Nurturing care in a home environment
Flexible hours, including before/after school and evenings
Small group environments for individual attention
Care available for children from birth to 12 years
Full access to child care subsidies and benefits
All our educators are trained, registered and supported by our Family Day Care team, backed by 40 years of experience as Queensland's first family day care provider.
Our fee parameters are listed below
Who is the approved provider?
The approved provider is Kath Dickson Family Centre Limited. This association is managed by a voluntary Board of Directors, which accepts overall responsibility for the Education and Care Service, ensuring that the Education and Care Service meets the needs of the local community and is able to respond with flexibility to changing needs. Anyone, who has an interest in the service, is encouraged to seek nomination to the committee at the Annual General Meeting that is held in October each year.
How can I find an Educator near me?
Kath Dickson Family Day Care has amazing Educators in the Sunshine Coast, Toowoomba and Darling Downs regions. 
To Find an Educator that may be able to meet your childcare needs please complete the childcare request form on our website and we will be able to assist you with details of any available vacancies.
What is the Child Care Subsidy?
The Child Care Subsidy is the main way the Government will assist families with their child care fees.
The amount of subsidy you receive will be determined by the activity test and your annual family income. To find out if you are eligible, and to register, visit:
 https://www.servicesaustralia.gov.au/individuals/services/centrelink/child-care-subsidy/how-claim
This can help you to find, estimate and compare payments and services you may be eligible for. Please note that this calculator will suggest all potential payments for you to explore further, based on the information you provide, not just CCS.
Why Choose Kath Dickson Family Day Care?
Small group settings, one-on-one communication with your child's Educator with affordable hourly rates, flexibility of hours and days, full access to Child Care Subsidy for all eligible families makes family day care a popular alternative to centre based care.   
Family Day Care provides the most natural setting for the important early childhood years.  Child to educator ratios are very low, allowing you and your child endless opportunities for one-on-one interaction with the Educator. 
Safety standards are strict – all our Educators are visited regularly by Scheme Coordinators to ensure all government regulations and rules are implemented and maintained. our Educators love their work, and we are proud of their commitment to maintaining the high standards we require.
What are the fees for your service?
Each Educator operates as an independent Educator, and provides care in an environment that is unique to the service they provide.  For this reason, each one of our Educators independently set their own fees.  Parents are required to discuss the cost of care directly with the Educator
What happens if my Educator is unavailable
When your educator is planning to take holidays and care is still required You may choose to make your own arrangements with friends or family or you may want the service to offer alternate care. If you do need care, please notify Kath Dickson Family Day as we have a network of registered Educators who may be able to assist you.
What are the child ratios at your service?
An Educator may provide care for a maximum of four (4) children under school age, including their own children. In addition to the four (4) children, educators may provide care for three (3) children of school age (including their own children under the age of 13).
Who do I communicate with and how?
Kath Dickson family Day Care welcomes family involvement within the service. Kath Dickson may use a variety of media to keep families informed of changes happening in relation to legislation or service operations. Your Educator will also share with you any information about your child on a regular basis through verbal communication as well as through the Harmony systems parent portal.
Family Day Care Environments
Kath Dickson family Day Care offers approved child care in a home environment. In family day care children develop strong attachments and secure relationships with their educator in a small group setting. Educators develop a program including learning experiences that match each child's interests and developmental stage, and may include excursions within the local community as well as a wide range of experiences within the home setting, both indoors and out. Experiences on offer are limitless, but a small example would include messy play, dressing up, reading books, cooking, playdough, dramatic play, construction in the sandpit, mud kitchen, swings and slides, ball games, riding bikes and scooters, and much more.
Daily routines are also used as an important learning experience, allowing children to develop self-help skills and to learn to care for their environment.
Educators observe children closely and make considered decisions about how to support each child's learning, growth and development. The family day care environment provides opportunities and spaces for children to come together and share experiences, improve the development of relationships and reflect the communities and cultures of the children and families.
Educators environments are checked regularly to ensure that are safe and meet the requirement of the service and meet regulation. The Coordinators of the scheme conduct announced an unannounced visits to Educators to ensure these regulations continue to be met.
Quality Improvement Plan
The National Regulations require approved services to have a Quality Improvement Plan (QIP). The aim of this plan is to help providers self-assess their performance in delivering quality education and care and to plan future improvements. The QIP also helps the regulatory authorities with their assessment of the service. Our Quality Improvement Plan is available on request
Role of the Coordination Unit
The coordination unit is the point of contact and support for parents and educators. Coordinators support educators in curriculum decision making, planning for children's learning and development and in their interactions with families and children. The coordination unit works in a close partnership with educators to ensure they uphold organisational values and meet requirements set by government legislation. The coordination unit supports educators to participate in ongoing professional development on a range of topics relevant to children's development and learning. The coordination unit also administers government child care subsidies on behalf of eligible families.
The benefit of family day care

Small group size
To ensure a quality service is provided, individual educators are limited to a maximum of four under school age children in care, including their own.

Greater flexibility
Educators have the option to offer flexible hours, including early mornings and evenings, as well as before and after school care and school holidays.

Various locations
We have educators throughout the Toowoomba region and the Sunshine Coast, as well a range of towns in regional Queensland.
Office Locations
Let us help you find Family Day Care for you!
Toowoomba & regional Queensland
Kath Dickson Family Day Care – Metropolitan Service
5 Jennings Street, Toowoomba Qld 4350
07 4633 8400  |  1300 336 345
Kath Dickson Family Day Care – East Coast Service
Cnr Ocean Street & Beach Road, Maroochydore Qld 4558
07 5446 7731  |  1300 336 345
I was introduced to Kath Dickson Family Day Care when I required before and after school care for my daughter. I can highly recommend Kath Dickson Family Day Care to any parents/carers looking for piece of mind when needing care for their child.
Our family got that little bit bigger when we enrolled our first child with Nicki at Kind Kids, Brightwater. Her family became an extension of our own and we are forever grateful for the way she has nurtured and supported our children on their pathway to school.
Contact us
Kath Dickson Family Centre Head Office: 5 Jennings Street, Toowoomba Qld 4350
Visit our Facebook Page for regular updates
1300 336 345
Contact us
Kath Dickson Family Centre Head Office: 5 Jennings Street, Toowoomba Qld 4350
Visit our Facebook Page for regular updates
1300 336 345