​Become a Family Day Care Educator
Toowoomba Region | Sunshine Coast | Throughout regional Queensland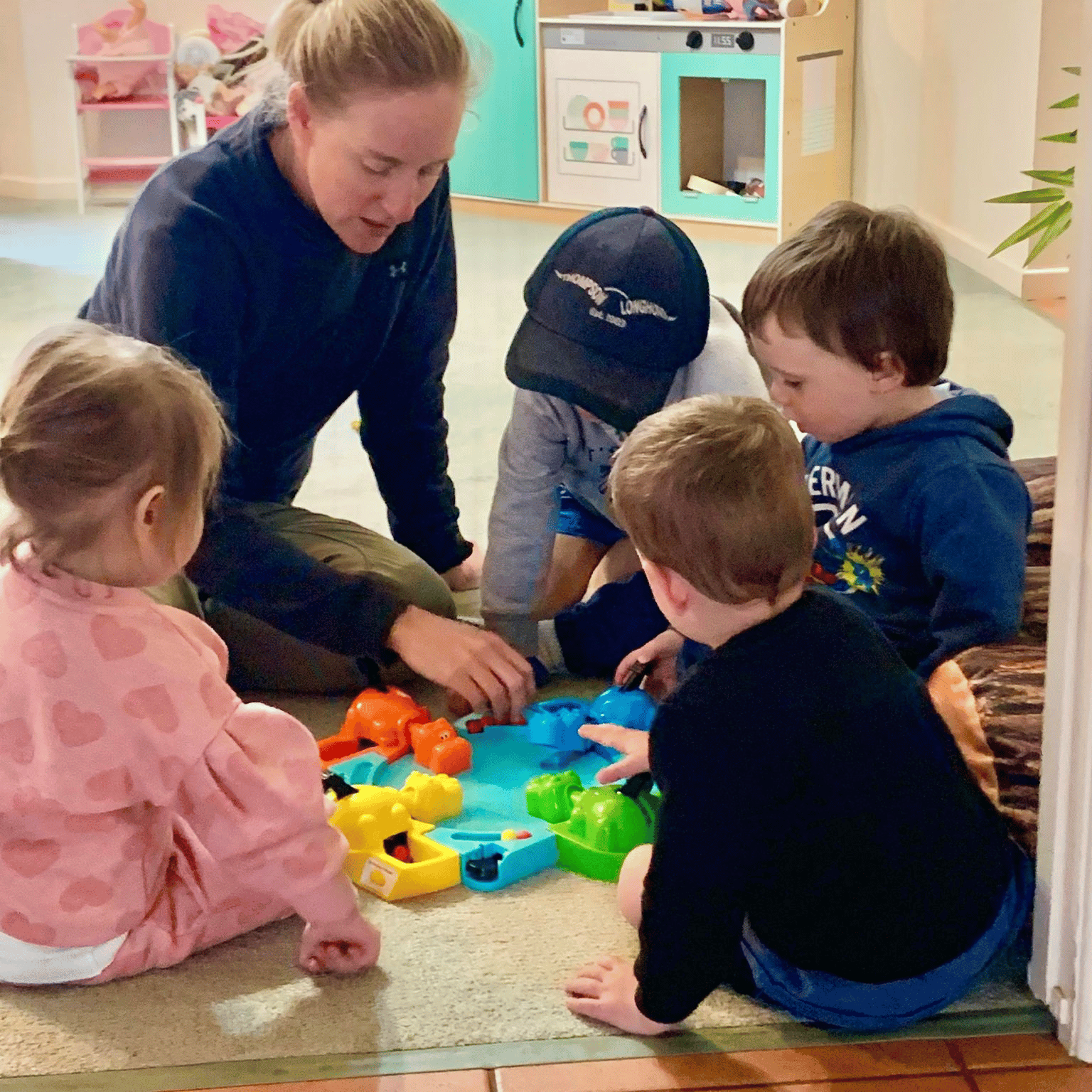 Looking for a rewarding career? Become a family day care educator in your own home!
As a family day care educator, you'll provide quality child care from your home, with the flexibility to choose your hours and set your own income, while raising your own family… and we'll be with you all the way.
When you join Kath Dickson Family Day Care, Queensland's longest running family day care scheme, you'll get all the support you need to set up and run your own business from home. We can even help you gain the qualifications you need to get started.​
Let us help you achieve your dream of a rewarding career.
Give our Family Day Care Coordination team a call on 1300 336 345 or email info@kdfc.com.au
Further Benefits
Whilst earning an income working from home, further benefits you will receive from being part of our Family include:
access to 1,000+ Toys from our Toowoomba Library

regular playgroups

initial Family Day Care training

Policies and Procedures Manual

subscription to "Harmony" – user-friendly software to manage attendances, process Child Care Subsidy claims, family accounts and online programming

access to resources and advice from qualified and experienced Early Childhood Education professionals and members of our administration team

Program assistance through our Educational Leaders

regular support, mentoring, and wellbeing visits by your appointed Coordinator and other members of the Coordination teams

DISCOUNTED 

annual First Aid/CPR Certificate training at any of our scheduled classes

After 2 years of being with Kath Dickson, Educator receive free first aid through when completing with our training institute and 50% discount for family members living in your home.

Professional Development opportunities

Marketing and Promotional Activities

Educator networking opportunities

All Forms, Documents, Checklists to help run your business supplied

Set your own hours
You choose when you want to work, whether it is early starts, late finishes, specific days of the week, evenings or weekends.

Set your own income
You can set your hourly rate (within certain guidelines) and choose what you offer families in terms of food, nappies, excursions or experiences.

Free training in your home
We will take you through a full training program (in addition to your early childhood studies) so that you are ready for all aspects of family day care.
Who is the approved Provider?
The approved provider is Kath Dickson Family Centre Limited. This association is managed by a voluntary Board of Directors, which accepts overall responsibility for the Education and Care Service, ensuring that the Education and Care Service meets the needs of the local community and is able to respond with flexibility to changing needs. Anyone, who has an interest in the service, is encouraged to seek nomination to the committee at the Annual General Meeting that is held in October each year.
How can I become a Family Day Care Educator with Kath Dickson Family Day Care?
If you are passionate about providing a safe, loving environment in your own home, and have an Early Childhood qualification or willing to study your Certificate III in Early Childhood Education and Care, we would love to chat with you. 
Contact our Coordination team at hello@kdfc.com.au or use the contact me option on the website
Why choose Kath Dickson Family Day Care?
Small group, flexibility in setting fees, flexibility of hours and days, full access to Child Care Subsidy for all eligible families.  
Child to educator ratios are very low, allowing endless opportunities for one-on-one interaction with the Educator. Individual programs based on each child's strengths, needs and interests. 
Support on a regular basis by the services Coordinators to ensure all government regulations and rules are implemented and maintained.
Kath Dickson pays for the third-party software called Harmony web so that Educators can submit attendance records, Document children's leaning and use to track payments from families.
We also offer Discounted First aid and CPR for Educators who complete this with our Registered training organisation. Once you have been an Educator for over 2 years, this will be for free.
No Application fees for becoming an Educator and no re registration fees.
No obligation consultation in your own home about the benefits of being a family day care educator.
What fees can I charge and How much out of pocket am I per week?
Ability to set your own fees within a set parameter, you can potentially earn more than working at a service depending on hours worked. Tax incentives -claiming your mortgage, rent, electricity, cleaning costs. Save on fuel cost as there is less travel.
No sign-up fees or annual registration fees to be an Educator with Kath Dickson Family Day Care. Being a Registered Educator will also allow you to receive Discounted First Aid when completed by our Registered Training organisation, Discounted Car Restraint checks when completed by a Kath Dickson certified installer.
Kath Dickson also covers the cost of the operating system "Harmony" which we use for recording children's attendance and documenting children's learning and wellbeing. 
ACECQA Rating
Kath Dickson Family Day Care – East Coast is rated as "Meeting" the National Quality Standards
Kath Dickson Family Day Care – Metro is rated as "Meeting" the National Quality Standards
Programming / Activities / Outings Permission
Educators decide the activities they would like to do with the children in care are encouraged to include activities and outings into the local and wider communities.  This opportunity extends learning experience and create new social contexts and interactions. Kath Dickson also offers a number of facilitated playgroups to attend so that you can network with other Educators.
Assessment of Family Day Care Venue and Residence
The Coordination unit assesses each venue and residence of the service before education and care is provided to children. The suitability of each residence and venue is determined upon completion of the services "compliance checklist". The suitability of each residence and venue is considered in relation to ensure the health, safety and wellbeing of children being educated and cared for by the service are being protected. We aim to ensure that your home will still remain a home environment and find ways to make this safe for children as well as your family home. We have lots of different cost-effective ideas so they can use the areas they would like in your home. Compliance checks are conducted every 6 months.
Role of the Coordination Unit
The coordination unit is central to the operational functioning of the Education and Care Service, supporting the provision of quality education and care. The coordination unit is the point of contact, registration, referral, resourcing, monitoring and support for parents and educators. Coordinators support educators in curriculum decision making, planning for children's learning and development and in their interactions with families and children. We recognise Educator achievements, we acknowledge this during our face to face visits and service awards.
We have a very knowledgeable Coordination unit and we work in a close partnership with educators to ensure they uphold organisational values and meet requirements set by government legislation. The coordination unit supports educators to participate in ongoing professional development on a range of topics relevant to children's development and learning. The coordination unit also administers government child care subsidies on behalf of eligible families. Within the coordination unit, team members manage individual programs.
Do I need any qualifications to start?
No. Family Day Care educators need to either hold a minimum of a Certificate III in Early Childhood Educator and Care or be actively working towards this Qualification. If you are willing to study, you can still be an Educator.
 In addition, all FDC educators must hold a current First Aid, Asthma, Anaphylaxis and CPR qualification, Blue Card/Working with Children Check and Police Check.
After applying, How long until I can start?
Your start time is guided by you as our initial training is self-paced and can be completed online in the comfort of your own home. The Coordination team will support and guide you with every step of the way.
Do I need to own my own home?
No, but you will be required to obtain written permission from your landlord to operate with us.
Can I have pets?
Yes! We know pets are a part of your family, however, there are some safety requirements around sharing space and supervision.
Can I have a pool?
Yes! You will be required to have a pool safety certificate and other specific policy around swimming must be adhered to if using during Family Day Care hours.
Can I still work if I have my own children at home?
Yes! Educators can care for a Maximum of 7 children, four children preschool age or under. This Ratio includes the educator's own children younger than 13 years of age if there is no other adult to care for them. 
What do you love being a family day care educator?
Working from home is fantastic…I can sing and no one tells me to stop!
The best thing about my job is the relationships we have with the children and the families. My daughter always has friends to play with!
We've loved being apart of family day care. It made the transition to having to put our son in day care so much easier knowing that he is with only a few kids and has some really great one on one time with his career. It has been such a joy to receive photos of him doing lots of different things through play. He is always so happy playing when we pick him up and we know he's loved well in that environment.
As a new parent I was worried about returning to work and leaving my precious boy in care. Kath Dickson Family Day Care have been so amazing. They were so easy to deal with and so supportive in my search for an educator. They matched me up with the perfect person. At our first meeting I felt so comfortable and this only continued after my child started care. I now go off to work each day with the knowledge and reassurance that he is happy, well cared for and part of his own new tribe. Our new 'Nana" sends home photos each and every day showing all the learning activities, friendships and fun he has each day. I could not recommend Kath Dickson Family Day Care high enough.
Contact us
Kath Dickson Family Centre Head Office: 5 Jennings Street, Toowoomba Qld 4350
Visit our Facebook Page for regular updates
1300 336 345
Contact us
Kath Dickson Family Centre Head Office: 5 Jennings Street, Toowoomba Qld 4350
Visit our Facebook Page for regular updates
1300 336 345